Playing Catch Up
A cyber friend ask me if I had given up on my blog. Her question made me realize that I missed writing. So I decided to play catch up. The last time I wrote on my blog was July 2010. So I will start with August.
August: As most of you know, I have a group of friends who were classmates many years ago. We call ourselves the Nixon Yayas. We stay in touch daily by e-mail and get together when we can for visiting and a good meal.
Our friend, Beverly invited us to attend the 100th Anniversary of the church she attended while growing up. Several of us went and sat together. We were surprised to see another classmate sitting behind us, Avis. None of us had seen her since high school. We visited and took pictures before we all had to leave. We made plans to have lunch together soon.
September: Several of the Yayas got together at a restaurant in San Antonio for a fun lunch.
While enjoying our time together Beverly suddenly said, "Ladies, we need to do something together. Maybe go on a trip. Why don't we go to Las Vegas?". We told her that sounded like fun. So within a couple of days Beverly had found a trip package for us and within another few days we were signed up and paid.
October: Beverly, Cathy, Penny and I met at the airport and were soon on our way to Vegas. Beverly's daughter, Kimberly, flew in from Dallas and met us there. We spent the next 2 1/2 days seeing all the sights we could possibly fit in. We ate, had a few drinks, gambled and had lots of fun and laughter.
Beverly, Penny, Cathy, MaryAnn
Too soon it was time to go home.
October -January: I was in and out of the hospital during these months. I finally felt much better when I was released from the hospital in January.
February: That brings me to some sad news. My friend, Avis, who I mentioned at the beginning of this blog, had a sudden stroke that took her life. It was so sad to loose her, but I'm so glad that we had the time to see her once again and have a nice visit.
March: The most exciting thing to happen in a long time was on March 7th. Kaitlyn, Dusty and Raven's baby was born.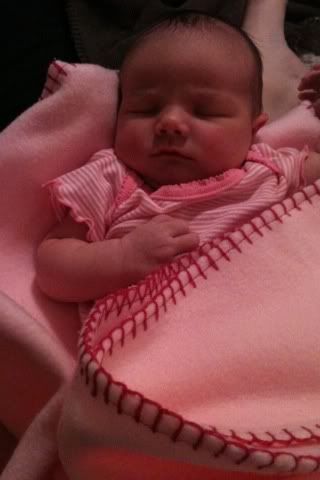 I had lost my love of reading for quite a while and was determined to start enjoying a good book again.
I managed to read 4 books and really enjoyed them.
"The Book of the Dead" by Robert Richardson
"The Girl Who Played With Fire" by Stieg Larsson
"Night" by Elie Wiesel
"Sisterchicks on the Loose" by Robin Jones Gunn